Showcase / Crushed Grape Packs
Cellar Craft uses over 10 pounds of virgin, varietal grapes to produce "Crushed Grape Packs" for true, on-the-skins fermentation. All of the natural skins and solids from variety-specific grapes are captured for extra extraction of aromas, flavor, color and body during the fermentation stage. The finished wine shows character never before possible from a kit.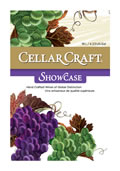 For something special after a great meal, or simply as a luxurious indulgence, try one of our delectable specialty dessert wines. Our specialty wine kits contain 12 liters of full strength must and produce 12 liters of finished wine in 6 weeks. You add no water!